Tu sei qui:
Oderzo Basket Vs The Team Riese
C Gold Maschile Veneto 2021-2022 / Girone Unico


Oderzo Basket-The Team Riese 65-58
PALASPORT ODERZO - Via Pontremoli ODERZO (TV)
10 ottobre 2021 18:00
Oderzo Basket
:
Cagnoni M. 18, Alberti N. 16, Nardin M. 10, Bonesso M. 7, Artuso N. 5, Ndiaye A. 5, Vita S. 4, Razzi A., Bucciol T., Bandiera L. ne, Masocco D. ne, Pasin G. ne. All.re: Guerra.
The Team Riese
:
De Bortoli A. 17, Brigato K. 10, Buratto S. 7, Mabilia A. 7, Cusinato M. 5, Lazzarotto P. 4, Campagnolo P. 3, Marini L. 3, Bizzotto M. 2, Civiero N., Rigon M. ne. All.re: Campagnolo, Vice All.re: Sonda
Esordio vincente al Palaopitergium per coach Guerra e i suoi ragazzi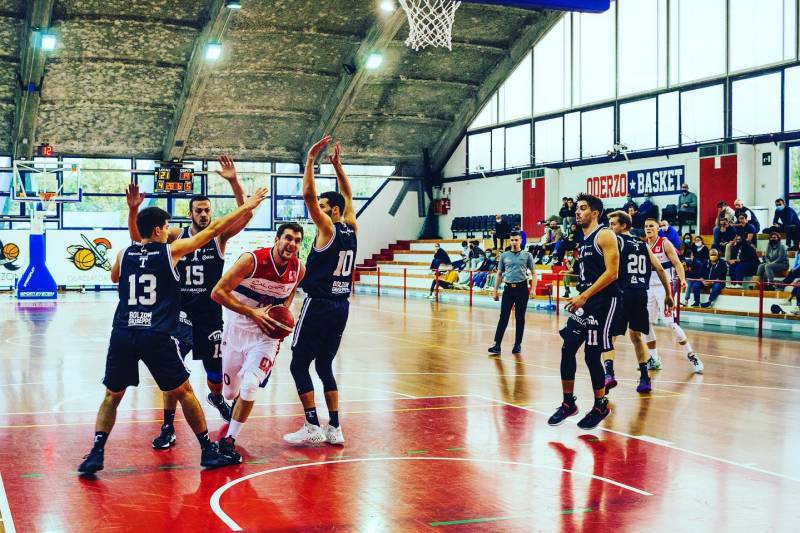 AUTORE: Redazione PlayBasket
Esordio vincente al Palaopitergium per coach Guerra e i suoi ragazzi, che dopo una partita per nulla facile, portano a casa i due punti contro Riese.
Le premesse non sono delle migliori. Masocco out per diverso tempo, causa ernia inguinale. Si parla di mesi purtroppo, in cui il nostro miglior giocatore non sarà a disposizione della squadra. Un grosso in bocca al lupo a Daniele, che ha un conto in sospeso con la sfortuna ultimamente. Indisponibile anche Poser, convocato in serie A con la TVB.
La partita sostanzialmente ci vede sempre in vantaggio fin dai primi minuti, ma non riusciamo mai a mettere sotto i ragazzi di coach Campagnolo che sono bravi a rimanere sempre a contatto.
In una domenica in cui litighiamo con il ferro, siamo bravi a trovare un protagonista diverso in ogni momento della partita. Se all'inizio ci affidiamo all'atletismo e alla freschezza di Nardin, sono le fiammate prima di Bonesso e poi di Ndiaje a darci la spinta nei momenti difficili.
Chi invece fornisce un rendimento costante sono Cagnoni e Alberti, i nostri "veterani" che nell'arco dei 40 minuti mettono in campo tutta la loro esperienza; due punti di riferimento fondamentali per il nostro team.
Domenica prossima ci aspetta la difficile trasferta nel campo dello Jadran Trieste. Proviamoci ragazzi!
Uff. Stampa Basket Oderzo