Tu sei qui:
The Team Riese Vs Unione Basket Padova 72-84
C Gold Maschile Veneto 2021-2022
Gara 2 - turno 2 - Playoff
The Team Riese-Unione Basket Padova 72-84
Pal. Com. di Riese Capoluogo - VIA DON GNOCCHI RIESE PIO X (TV)
22 maggio 2022 18:00
NOTE - Tiri liberi: Riese Pio X 13/19, Padova 16/26. Fallo tecnico: Campagnolo F. e Andreani. Fallo antisportivo: Volpato G.
Cuore UBP, il Guerriero Padova costringe Riese a gara-3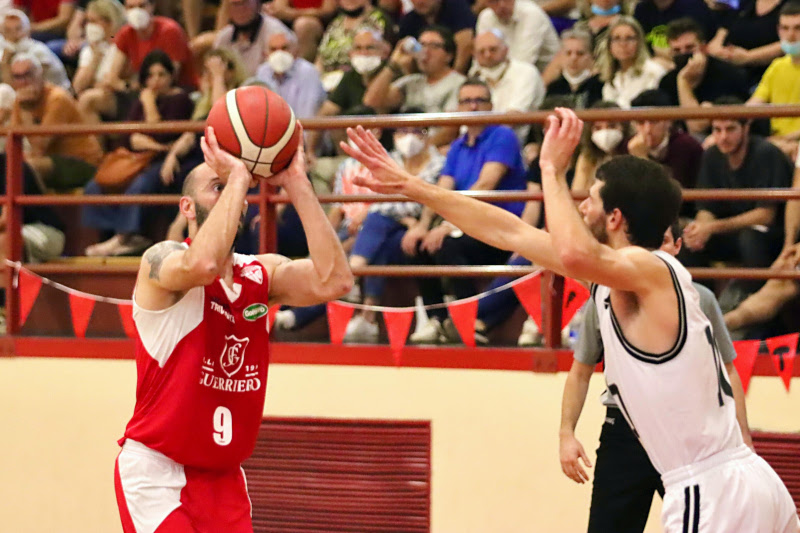 AUTORE: Playbasket Redazione
Le triple di un'implacabile Andreani, il ritorno da leader di capitan Andreaus dopo quasi due mesi di stop e la compattezza del gruppo nel momento più delicato della stagione. Il Guerriero Padova vince così gara-2 delle semifinali playoff di C Gold, spuntandola dopo un confronto intenso e combattuto contro The Team Riese. Nel ventre rovente del palazzetto di Riese Pio X, l'UBP rimedia al ko patito nel match d'andata a Mortise (la prima sconfitta casalinga dell'intera stagione) e impatta la serie riprendendosi il fattore campo per la decisiva gara-3 che stabilirà quale squadra accederà alla finale playoff.
Coach Volpato sparigliava le carte in avvio alternando difesa a uomo e zona per spezzare il ritmo dell'attacco trevigiano che in gara-1 era stato una sentenza sul perimetro. A differenza della scorsa partita, il tecnico dell'Unione comincia subito a ruotare i suoi uomini in panchina inserendo anche Bombadieri e Andreaus che mercoledì scorso erano rimasti a riposo. Padova approccia con determinazione alla sfida (7-12), ma pecca di precisione e concretezza, permettendo ai locali di arrivare alla prima pausa sopra di un'incollatura (14-13).
Spinti dal tifo incessante dei propri tifosi, Riese fa corsa di testa (18-13), mentre i biancoscudati sono costretti a inseguire, restando a distanza di uno o due possessi. Con un pregevole arresto e tiro di Stavla, gli ospiti riescono comunque a rimettere il naso avanti (30-31), ma all'intervallo lungo sarà perfetta parità (33-33).
Il confronto si scalda decisamente nella ripresa, quando Andreani infila due triple quasi senza senso e nel mezzo serve l'assist a Stavla in campo aperto (38-44). Migliorando le percentuali a cronometro fermo, che erano state uno dei talloni d'Achille nel precedente incontro, il Guerriero tocca anche il +8 (42-50), ma dall'altra parte The Team è sempre sostenuto da buone medie al tiro dalla lunga distanza grazie a cui chiude il terzo quarto ancora in pareggio (59-59).
I tiri da tre di Bruzzese e Andreani inaugurano nel migliore dei modi il quarto periodo (59-65), in cui è proprio la conclusione pesante l'arma in più dell'UBP. Capitan Andreaus è bravo a prendersi il vantaggio sotto canestro e a realizzare in sequenza dalla lunetta, ma lo è ancora di più quando stampa dall'angolo la tripla del +11 (67-78). Dopodiché ci pensa Benfatto in penetrazione a rifinire sul +15 il massimo vantaggio padovano (68-83), rimandando ogni discorso alla gara di spareggio (72-84). Uno a uno e palla al centro. Mercoledì, ore 20.30, si torna al PalaSavio a Mortise per la "bella".
Ufficio Stampa Unione Basket Padova (Credit Foto UBP)