Vazzieri si conferma fortino, la Magnolia supera il ponte buggianese
A2
–
Vazzieri si conferma fortino, la Magnolia supera il ponte buggianese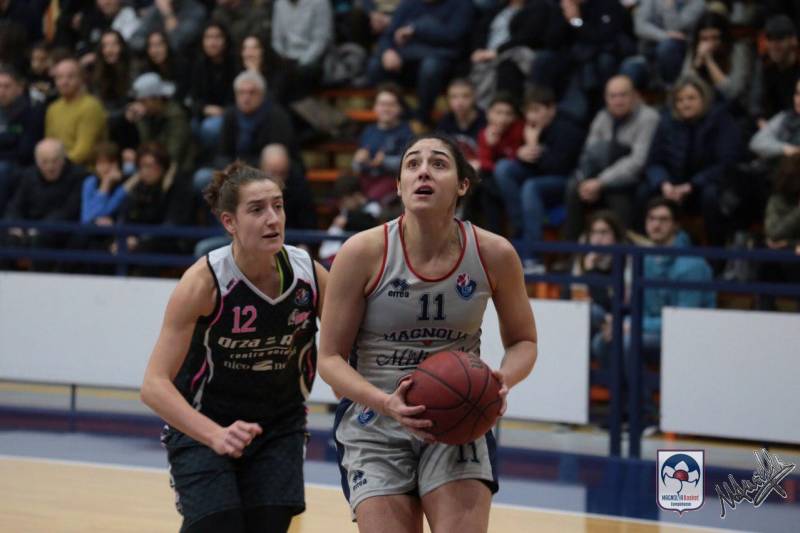 Avvio in sordina, poi le campobassane risalgono la corrente e non lasciano scampo alle rivali. Coach Sabatelli: «Ragazze meravigliose. Siamo stati in linea con l'obiettivo indicato all'intervallo»
To the moon and back. Ossia sino alla luna e ritorno. In quest'espressione idiomatica della lingua inglese è racchiuso – per certi versi – il sedicesimo successo in diciassette gare di campionato per il roster dei #fioridacciaio, gruppo leader in solitaria del girone Sud dell'A2. La Molisana Magnolia Campobasso doma, sull'inviolato parquet amico del PalaVazzieri, la resistenza del Ponte Buggianese e lo fa in una serata che ha un abbrivio non felicissimo per le rossoblù, capaci di trovare, dietro le indicazioni del proprio coach Mimmo Sabatelli e dello staff tecnico campobassano, le risorse per rigirare l'inerzia della contesa e dare vita ad un secondo tempo di grande sostanza in difesa e di assoluta efficacia in attacco (in particolare nel terzo quarto le molisane lasciano a soli quattro punti realizzati le proprie avversarie, mentre nell'ultimo periodo sono ben 26 i punti iscritti a referto dalle magnolie).
L'INFERNO SOTTO I PIEDI Per una squadra come quella campobassana che, sinora, aveva fatto dell'approccio alle singole gare il proprio punto di forza, l'avvio è un po' come un'equazione di notevole complessità. L'attacco campobassano batte in testa con diversi tiri aperti che non vanno a segno e anche la difesa lascia a desiderare col tiro di Bona che regala alle ospiti il massimo vantaggio (6-17). Coach Sabatelli prova a far ricorso alla propria falange veronese, inserendo prima Reani e poi Marangoni. Ed è in particolare l'esterna a 'quadrare il cerchio' tra le rossoblù riportando le sue sino al meno quattro del 13-17.
PROBLEMI E SOLUZIONI L'inerzia pare sorridere ancora alle toscane in avvio di secondo periodo, ma da un nuovo svantaggio in doppia cifra (13-23) le rossoblù riescono a risorgere e con un parziale di 10-2 si riportano in scia alle loro avversarie con la tripla di Bove che significa il sorpasso sul 28-27. Da quel momento, in poi, tranne una parità a 29 con canestro di Giglio Tos, le toscane non riescono più a mettere la testa avanti ed un'altra tripla di Bove consegna il +4 del 37-33 all'intervallo lungo.
ATMOSFERA PRECAMPIONATO Il rientro dagli spogliatoi ricorda molto quello che era il mood che aveva accompagnato le magnolie durante il precampionato. Con dieci minuti di autentica applicazione le rossoblù chiudono a doppia mandata la via del canestro alle proprie avversarie (primo canestro subito dopo oltre sei minuti), scrivendo prima un break di 8-0 in attacco e poi sigillando l'ingresso nell'ultimo quarto con due liberi di capitan Di Gregorio (in doppia cifra al pari di Porcu, Bove e Marangoni, quest'ultima top scorer del match a quota 20).
CRESCENDO ROSSINIANO Dal più quattordici (51-37) del 30' le rossoblù traggono forza per dare ancora più sostanza al proprio finale. La difesa continua ad essere serrata, in attacco si fa sentire anche Želnytė con due triple. Ciavarella è stopper aggiunto nella propria area e – sul finale – c'è spazio per tutte le rotazioni con l'ingresso in campo, nell'ordine, di Falbo, Sammartino e Mandolesi, capaci di prendersi minuti e soddisfazioni sul parquet.
SABATELLI FIERO Così, a fine partita, per coach Mimmo Sabatelli c'è l'ennesima conferma delle qualità di un gruppo capace di farsi apprezzare sotto molteplici aspetti.
«Il nostro inizio – discetta – è stato senz'altro problematico perché non riuscivamo a giocare come avremmo voluto e lì è subentrato del nervosismo. Le ragazze, però, ancora una volta sono state meravigliose perché hanno saputo rigirare l'inerzia della contesa. Nell'intervallo c'eravamo dati come obiettivo il tenerli ai cinquanta punti e siamo riusciti a rimanere in linea. Sappiamo che ci sono ulteriori dettagli su cui lavorare, ma intanto ci godiamo questo ulteriore referto rosa».
FORLÌ ALL'ORIZZONTE Da calendario, per le magnolie – sabato sera – ci sarà la trasferta sul parquet del Forlì, formazione attualmente fanalino di coda del raggruppamento. Con certezza, però, nel cuore e nella testa della rossoblù c'è la voglia di dar vita ad un'altra gara di tutta sostanza, perché, al di là del ranking dell'avversaria, le campobassane vogliono proseguire nel loro percorso fatto di crescita di consapevolezze, sinonimo al momento di tante (ed esaltanti) soddisfazioni.
Area Comunicazione Magnolia Campobasso
Magnolia Campobasso
:
Marangoni S.
20,
Bove E.
15,
Di Gregorio R.
12,
Porcu R.
10,
Zelnyte L.
8,
Ciavarella G.
4,
Reani L.
4,
Mandolesi L.
2,
Falbo A.
2,
Sammartino E
.
All.re: Sabatelli.

TL: 13/15, T2P: 20/48, T3P: 8/21
Basket Femminile Nico Pistoia
:
Bona S.
14,
Lazzaro M.
10,
Giari S.
8,
Giglio Tos S.
8,
Sorrentino G.
5,
Tomasovic N.
4,
Innocenti S.
3,
Nerini D.
1,
Luciani M.
,
Vannucci B.
,
Mariotti A.
,
Pagni V
.
All.re: Tommei.

TL: 18/24, T2P: 16/39, T3P: 1/12
NOTE - Fallo antisportivo a Nerini (Ponte Buggianese).
Basket Femminile Nico Pistoia
53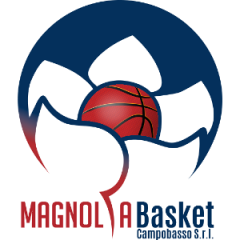 26 Jan, PALAZZETTO VAZZIERI - Via I. Svevo 1 CAMPOBASSO (CB)
Magnolia Campobasso
Basket Femminile Nico Pistoia
Tu sei qui:
Vazzieri si conferma fortino, la Magnolia supera il ponte buggianese