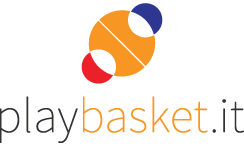 PLAYBASKET TIPS
Sei un giocatore/allenatore e cerchi squadra? Pubblica un tuo annuncio nella Bacheca.
Presentati i volti nuovi di BB14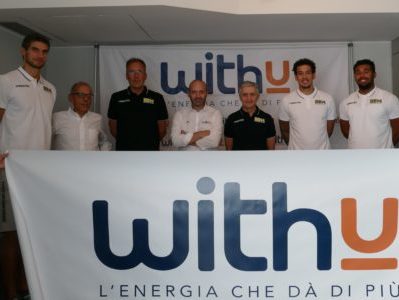 Si è tenuta giovedì 5 settembre – presso la sede di Bergamo di WITHU – la conferenza stampa di presentazione dei nuovi volti di Bergamo, pronti ad iniziare la stagione 2019/2020. Presenti il General Manager Gianluca Petronio, il Capo Allenatore Marco Calvani, il duo straniero composto da Jeffrey Carroll e Dwayne Lautier-Ogunleye, nonché il nuovo capitano dei gialloneri, Davide Bozzetto.
I diretti interessati hanno risposto alle domande dei giornalisti presenti. Per primo ha preso la parola Petronio: "Sono entrato in questa società senza subire nessun tipo di "contraccolpo". Mi ha subito colpito la disponibilità delle figure che lavorano all'interno di Bergamo, nessuno si è mai sottratto da quelle che sono le proprie responsabilità. C'è tutto per fare un buon lavoro: una società dinamica e concreta dove coltivare le nostre idee."
Anche coach Calvani si allinea al pensiero: "Abbiamo costruito una squadra estremamente giovane, al cui interno ci sono poi giocatori di buona esperienza come Zugno, Allodi e Bozzetto. Siamo work in progress, visto che siamo tutti nuovi: si parte da zero, ma sono sicuro che il tempo sarà dalla nostra parte."
Parola all'inglese Lautier-Ogunleye: "Ho notato sin da subito un diverso livello di fisicità ed aggressività. Qui il basket è più rinchiuso all'interno di un sistema, c'è forse meno spazio per l'estro di un singolo. Posso fare molte cose sul parquet, essere utile ai miei compagni di squadra, che ho trovato disponibili sin dal primo giorno."
Carroll: "Siamo giovani, ci vorrà un po' di tempo per trovare i nostri punti di forza e le nostre debolezze. Abbiamo davanti un futuro luminoso, sarà un onore per me lavorare con e per coach Calvani, un allenatore che sto apprezzando in queste prime settimane qui a Bergamo."
Spazio al nuovo capitano, Davide Bozzetto: "Un onore incredibile, per me è la prima volta in carriera indossare i galloni del Capitano. Ho una responsabilità importante nei confronti dei miei compagni, a cui tengo molto. Stiamo lavorando bene, dovremo riuscire ad allenarci nella maniera più dura possibile perché il campionato sarà duro, durissimo. Intensità e coesione saranno due parole-chiave della nostra stagione."
Questa è stata anche l'occasione per annunciare l'accordo di sponsorizzazione siglato da WITHU, marchio del gruppo Europe Energy, e Bergamo Basket 2014.
WITHU, brand dedito alla vendita diretta di luce, gas, fibra e mobile, affiancherà la formazione giallonera fino al termine della stagione con il titolo di Main sponsor. Bergamo Basket, che ha fermato lo scorso anno la sua cavalcata in semifinale play-off, avrà un'arma in più grazie all'energia di WITHU. Tifosi gialloneri ed i residenti nella provincia di Bergamo avranno inoltre la possibilità di accedere alle promozioni ed i servizi che WITHU lancerà nel territorio bergamasco. WITHU si impegna inoltre ad animare le partite casalinghe della Bergamo Basket con iniziative a premi come il tiro da tre punti e trivia. Il logo di WITHU sarà presente sulle divise e su tutto il merchandising della squadra.
Valori comuni e passione per lo sport hanno fatto da sfondo a questo accordo, oltre all'interesse dell'azienda Europe Energy per la città di Bergamo, nella quale sarà presto protagonista di una campagna pubblicitaria locale con spot radio ed affissioni.
Matteo Ballarin, Chairman of the Board del Gruppo Europe Energy commenta: "Non abbiamo avuto dubbi nel continuare il rapporto di sponsorizzazione che già legava Bergamo Basket ed il Gruppo Europe Energy. Da quest'anno sulle maglie della squadra ci sarà il nostro nuovo brand commerciale, WITHU, un brand giovane ed innovativo che si lega perfettamente ad una realtà sportiva di successo come Bergamo Basket 2014. Crediamo fermamente nei valori che lo sport veicola: dinamismo, lealtà, impegno e gioco di squadra. Sono gli stessi principi che devono orientare e motivare la nostra azienda ogni giorno. La visibilità a livello nazionale, oltre che locale, del Bergamo Basket 2014 aiuterà a far conoscere ancora di più il marchio WITHU ed i servizi che offre".
Matteo Ballarin
Fondatore del Gruppo Europe Energy, azionista di maggioranza nonché Presidente delle varie società del Gruppo. È attivo nel mercato elettrico dal 1999, ha lavorato in diverse società collaborando alla crescita e consolidamento di importanti operatori come Multiutility Spa, Meta Spa (ora confluita in Hera Spa) e Energetic Source Spa. Fa parte del Comitato Energia di Assolombarda ed è parte del direttivo di Confindustria Serbia.
Manlio Costantini
Professionista che ha maturato oltre 25 anni di esperienza in grandi realtà multinazionali. Prima di essere CEO del Gruppo Europe Energy ha ricoperto ruoli di responsabilità ai vertici di Vodafone Italia, con la responsabilità strategica e operativa della commercializzazione dei prodotti e dei servizi di telecomunicazione dedicati alle aziende e alla pubblica amministrazione.
Enzo Galluzzo
Bergamo Basket 2014 ed il Consiglio del nuovo Progetto Giovanile (Virtus Isola-Bergamo, La Torre Basket e BB14) sono lieti di annunciare Enzo Galluzzo come nuovo Responsabile dei rapporti con le società sportive esterne. Enzo è nel mondo della pallacanestro bergamasca da circa dieci anni, in cui ha ricoperto vari ruoli. Nelle ultime sei stagioni sportive è stato dapprima Presidente della Virtus Gorle dal 2013 al 2018 e nella passata stagione sportiva 2018/2019 General Manager de La Torre Basket.
Da mesi lavora assiduamente e con il massimo impegno all'organizzazione a 360° del nuovo Progetto Giovanile (BG Giovani) in qualità di componente del Consiglio e co- responsabile del Progetto stesso. Enzo è la persona giusta per ricoprire questo importante ruolo, auguriamo a lui buon lavoro per questa nuova avventura.
Uff. Stampa Bergamo Basket 2014
6 settembre [18:55]
di Redazione PlayBasket
Tu sei qui:
Presentati i volti nuovi di BB14